Belize Tours

Action Boys Belize Tours, pioneer tour company of most combo tours in Belize with over 19 years of experience continues to provide vacationers and adventure seekers with high-quality tours throughout Belize. Our goal is to offer exceptional fun-filled adventure, Maya Archaeological, nature and ecological tours to the various natural wonders of Belize with a commitment to ensuring "Comfort, Safety and Excellence!" With our air-conditioned fleet of privately owned vehicles and boats of varying capacities, we can accommodate any group size, small or large, on shared or private basis.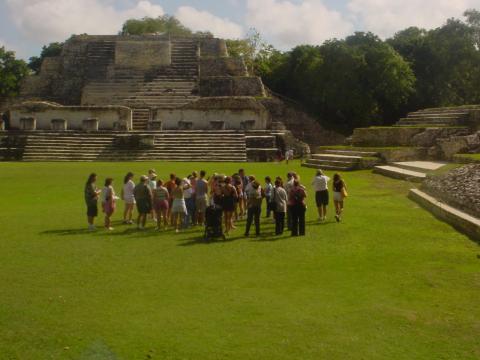 Below is a selection of our most popular requested tours with daily or regular guaranteed departures.
Some of our most popular tours are as follow: cave tubing and zip line, xunantunich mayan ruins and Belize Zoo, Baboon Santuary and Altun Ha Mayan Ruins, Altun Ha Mayan Ruins and Cave tubing, just to name a few. Please free to go through our website and create your own combo tours and tour packages and we will accommodate you.

DONALD
Visitors staying in San Pedro - Ambergris Caye are need to board the 7:00am water taxi that leaves San Pedro Ambergris Caye to Belize City. When you arrive in Belize City one of our tour guides will meet you on the dock with a sign that reads your name. PLEASE KEEP IN MIND THAT YOU ARE RESPONSIBLE FOR YOUR TRANSPORTATION FROM AMBERGRIS CAYE SAN PEDRO. WE PROVIDE TRANPORTATION FROM OUR MEETING POINT TO AND FROM THE TOUR SITES.
Visiors cruising to Belize City Cruise Port are ask to try to get off their ships as soon as they can. If you can board the first tender, that would be great. When you get off your tender please go Terminal #1 and exit from the glass door. As you exit Terminal #1, you will see us hoding a sign that reads your name. We offer our Belize shore excursions and cruise tours to cruisers on Royal Caribbean Cruise Line, Carnival Cruise Line, Norwegian Cruise Line and, Celebrity CruiseLine. So, if you want to sav on shore excursions in Belize City Cruise Port, book with us. Offering Belize Cruise excursions and shore trips in Belize cave tubing (Action Boys Belize Cave Tubing and Action Boys Belize Kids Cave Tubing), Zip Line canopy tour, our famous combo: Zip Line and Cave Tubing, Mayan Ruins (Altun Ha, Lamanai, Xunantunich), beaches jungle tours, river tours, caving, Belize Zoo, Old Belize and more!! Our vision is to make your visit to our port of call, Belize City Belize, the most enjoyable and memorable destination of your Cruise.
Altun Ha Mayan Ruins is the name given ruins of an ancient Maya city in Belize, located in the Belize District about 30 miles (50 km) north of Belize City and about 6 miles (10 km) west of the shore of the Caribbean Sea. "Altun Ha" is a modern name in the Maya language, coined by translating the name of the nearby village of Rockstone Pond. The ancient name is at present unknown.Temple of the Masonry AltarsThe largest of Altun Ha's temple-pyramids, the "Temple of the Masonry Altars", is 54 feet (16 m) high. A drawing of this structure is the logo of Belize's leading brand of beer, "Belikin". The site covers an area of about 5 miles (8 km) square. The central square mile of the site has remains of some 500 structures. The ruins of the ancient structures had their stones reused for residential construction of the agricultural village of Rockstone Pond in modern times, but the ancient site did not come to the attention of archeologists until 1963, when the existence of a sizable ancient site was recognized from the air by pilot and amateur Mayanist Hal Ball.
All of our tours are family friendly and can be done by all age groups. We offer strictly personalize services to all visitors. Please keep in mind that the prices of our tours may vary depending on the number of booking. We also allow you to go through our website and create your own tour packages. Suggest your combo tours and we will let you know if they can be done in one day.
If you are leading a large group, we highly suggest that you book in advance.
Call: 011-501-664-1975 - for last minute booking, please call us any time.